The Trust Guard Story
Trust Guard started in 2006, helping companies Build Trust and Make More Sales. Our founders Dave
and Scott Brandley have worked hard to help make the world a little bit more trust worthy, through Third Party
Verification and later through website Security Scanning. But most of all, we couldn't have done it without all the
amazing businesses and people that have helped us grow over this last decade. For that we owe you all a huge
thanks, and hope that you keep pushing us to be the best we can be.
Here's our story
join us as we write the next chapter!
---
Trust Guard Creates New Backend
Keeping up with the needs of our clients, a new backend was designed, created, and tested inhouse.
The PH Team!
The Philippines programming team was organized to meet Trust Guards growth needs. They work diligently and effectively on all their projects. We wouldn't be where we are today without them.
Luke Brandley - Chief Marketing Officer
Luke Brandley joins the team as the CMO and opens our GMS Payson office to sell Trust Guard. He and his team are diligent and good-natured.
Aaron Brandley - Director of Social Media
Aaron Brandley signs on to help make our presence known on social media. His quick wit and writing prowess have made our presence known.
James Wales - In House Designer.
His work ethic and ability to crank things out at breakneck speed make him a huge asset to the team.
Joy Boothe - Marketing Consultant.
Her understanding of people and computer
systems made her a perfect fit.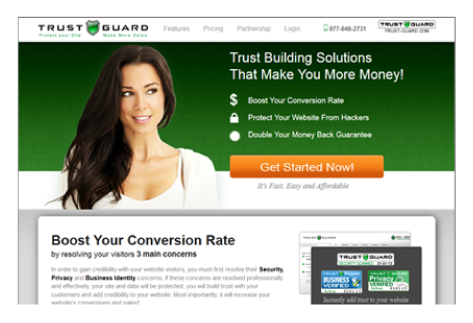 Site Redesign correlates with the new seals
Trust Guard gets a serious redesign moving away from the familiar side bar. The backend control panel also gets rebuilt from the ground up.
Shayne Murphy - First Impression Specialist!
Master of serving our clients with efficiency and style. Dedication or Punctuality could be his middle name, but he won't tell us which it is.
Cresta - Joins the Team!
Cresta Phillsbury formerly of Hacker Safe(before it was purchased by McAfee), joins the Trust Guard team as their CMO. She is quick to help push Trust Guard to a whole new level.
2011 - The "Candy" Colored Redesigned
As design elements and trends were changing in the world, Trust Guard dabbled in a more simple and colorful design to help draw the eye to important information.
Chrome Seal is added to the line up
With the intent of trying to bring more attention to our Seals, Eric prpose a bold style coined "chrome", complete with a new certificate with built-in security features.
2009 - Security Scanned is Launched
Just as the PCI Compliance starts to become mandatory across the board, Trust Guard launches the new Security Scanned Trust Seal and Certification Services.
2008 - Clone Systems Partership
Trust Guard partners with Clone Systems, an Approved Scanning Vendor, to bring PCI Certification Services and Scanning to our clientel.
New "Contemporary" Seal
Scott has an idea for a new seal design tried to hire the job out to freelancers without success. Eric rose to the challenge and the new "Contemporary" Seals were born.
Cherice Barfuss - Aug 2018
Hired to work from home on a variety of projects doing a little bit of everything starting with SEO and now with the Social Media Marketing and a lot of different things in between.
The "Classic" Seal is Made
Duke overhauls the Seals before embarking on his 2 year mission, leaving Trust Guard design in the hands of Dave and Scott. The seal type has been nick-named "Classic" over the years.
August 1st 2006 - Trust Guard is Launched
Dave and Scott launch Trust Guard a 3rd party Verification services, in an attempt to meet demand for more cost effective trust seals.
Stompernet Breaks Records
Dave and Scott build a program which is included in Stompernets line up of search engine optimization tools. Stompernet generated over 18 million dollars in gross sales within 24 hours of its launch!
1997 - Scott joins the Team
Scott Brandley, Dave's oldest son, begins helping with the online sales, graphics and fulfillment required for running a successful online store.
Trust Guard New Backend Beta Launch!
After testing the enw backend inhouse, it was finally ready for a beta launch.
Trust Guard @
10 Years of Service!
Ten years of serving the online community! Wow how time flies. It's been a great ride, so lets keep on riding!
The Payson Team!
Time to add a second sales team. With ever increasing online businesses popping up everyday, they need for security is growing equally as fast.
4xBuyerProtection Product Launch!
Added another amazing service, this time to protect our clients' customers. Which again increases our clients' sales conversions. Go Trust Guard!.
A complete Overhaul of everything!
Trust Guard gets a complete do-over adding the now-invaluable Solution Center, 2 new informative blogs and massive value to our products.
The Orlando Office Opens
Cresta opens and actively runs the Orlando office/call center, which proves to be wildly successful and probably a little humid. :)
2013 - Trade Shows, Expos and Summits!
With new vigor, Cresta leads the way to first person marketing, bringing Trust Guard to businesses equipped with mad knowledge and a smile.
New Dynamic Rotating Seals
With the demand of a cleaner, simpler seal, Eric designs a new and improved version. With the project under Cresta's supervision. the new seals turn out to be a hit with fortune 500 Companies.
2012 - We Crush McAfee Again!
In a second massive test with over 870,100 visitors, Trust Guard's Security Scanned seal beat No Seals by 4.25% with a 99.9% confidence rate and beat the McAfee Secure seal by 3.69 times.
2011 - Elisha Davis
Feb 2011 Brought on another amazing customer service team member. Elisha fit the bill and over delivered. Efficient and to the point makes working with her a breath of fresh air.

We Crush McAfee in Spit Test!
Based on a split test with over 200,000 visitors, the Trust Guard Chrome seal increased sales over no sales by 3.98% with a 98% confidence interval. McAfee Secure only converted at 1.47%.
Trust Guard gets Redesigned
Working together on the design, Eric and Duke build an updated look for the rapidly growing Trust Guard.
250,000 Customer Split Test
Trust Guard is given free reign to test multiple seals and styles on this opt-in giants website. The results showed that they improved Conversions by 16.51% with just one seal! Sweet!
Skybound Case Study
Paul Young of skybound.ca, is simply amazed at how adding a Trust Guard seal to his website increased his conversion rate by 59.61%! So much so, that he agreed to be interviewed.
Josilyn Barfuss - Aug 2018
Hired to work from home on a variety of projects over the years like: writing articles, spinning articles, blogging, videos, social media stuff, and whatever anyone asks!
Trust Guard Gets a New Designer
Eric Brandley, Dave's youngest son, joins the team as Trust Guards newest designer, and to help with business matters.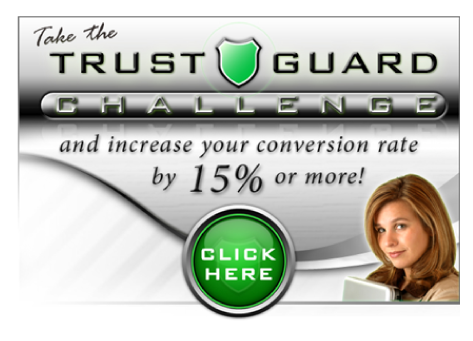 Take the Trust Guard Challenge!
The tag line 'increase your conversion rate by 15% or double your money back! Guaranteed!' Dramatically increases the number of users.
First A/B Split Test results!
"Adding all for Trust Guard Seals, each in a different color, outperformed all other Taguchi test combinations by 23%!"
- John Owen, NITMIX Lice treatment
Aubrey Barker
In 2006 Aubrey Barker joined the team as a programmer. His mad programming skills combined with his diligence and optimism has helped Trust Guard to become what it is today!
Zachary West
Zach West joined the team in 2005 as our lead programmer. Harnessing his keen intellect, creative abilities and can do attitude. Trust Guard was born.
2004 - Selling the Business
Dave & Scott sell their growing business, and begin dabbling in Online Marketing, Link Building, Search Engine Optimization and Software Development.
1996 - Dave Starts Selling Online
After working for years as a computer tech for one of the largest irrigation companies in Alberta, Canada. Dave Brandley begins selling merchandise i.e. T-shirts, Rings and Posters online.