Testing is the Key to Conversion
The nature of the internet has created new challenges for business owners. One of the most difficult challenges has been overcoming the distance and anonymity that make the internet both convenient yet questionable and seemingly unsafe. While shoppers are able to order a wedding dress from their cell phones while running to a meeting, that very convenience also takes away their ability to verify the people whom they're conducting business and socializing with online. Oftentimes, a shopper's suspicion gets the best of them. This lack of trust required business owners to come up with a way to build trust between themselves and potential clients without having a physical encounter with them. This is how the trust seal was born. It's a way for business owners to verify their businesses to the world, put shopper anxiety to rest, and have a fighting chance in a platform where news about security breaches, hackers and fake sites are a daily occurrence.

Trust seals are an easy, cost-effective solution for business owners who want to create trust between themselves and online shoppers. Third-party verification can go a long way for those who want the convenience of the internet but are cautious and don't want to be a victim of fraud, theft or bad business practices. A trust seal takes the gamble out of online shopping, which is why they significantly increase sales conversion. It's an affordable win-win solution.

An A/B Split Test conducted by Trust Guard compared sites with a seal to sites without a seal, and the sites with a seal showed a significant increases in conversion by 14% on average. In a similar case study for iNetVideo, Trust Guard Trust Seals increased sales conversion over no seal by 15.8%. Numerous other case studies can be viewed here. Sounds like magic, right? It's more like common sense. A trust seal shows potential shoppers that a site is verified, real and practices good business. When shoppers feel safe they're more likely to make a purchase.

There are a few factors that can impact sales conversion even with a trust seal. A trust seal must be used correctly. If seals are placed somewhere with low visibility they can't do their job. A seal can't alleviate shopper anxiety if it's invisible. Ideally they should be placed on the front page of a website where a shopper can see it immediately. Also placing another seal near the shopping cart can be very effective for reducing shopping cart abandonment.

If trust seals are used wisely, they can significantly reduce stress for both shoppers and business owners. The significant bump in conversion is pretty nice, too.



Case Studies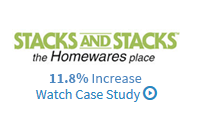 <
---
We have everything that you need for your business to succeed. Our products and services validate your website, grow consumer trust, and increase your sales! Choose us to take your business to another level of awesome.
---